Livorno Premium Hospital Bed, Split Side Rails
Includes Mattress & Delivery
Made in Germany
Features Overview
Divided Side Rails
The Livorno comes with divided safety sides to allow better support when getting in and out of bed.
Lockable Handset
All Livorno beds come with an intelligent handset with a clear menu structure and ergonomic design. It has fewer buttons and large symbols which facilitate intuitive operation.
The handset can also be locked from the back using the key provided, further improving the security of the bed.
Durable Laying Surface
The laying surface of the Livorno bed is made of aluminium, which not only provides an ergonomic sleeping experience but also durability. It is also easily removable for cleaning.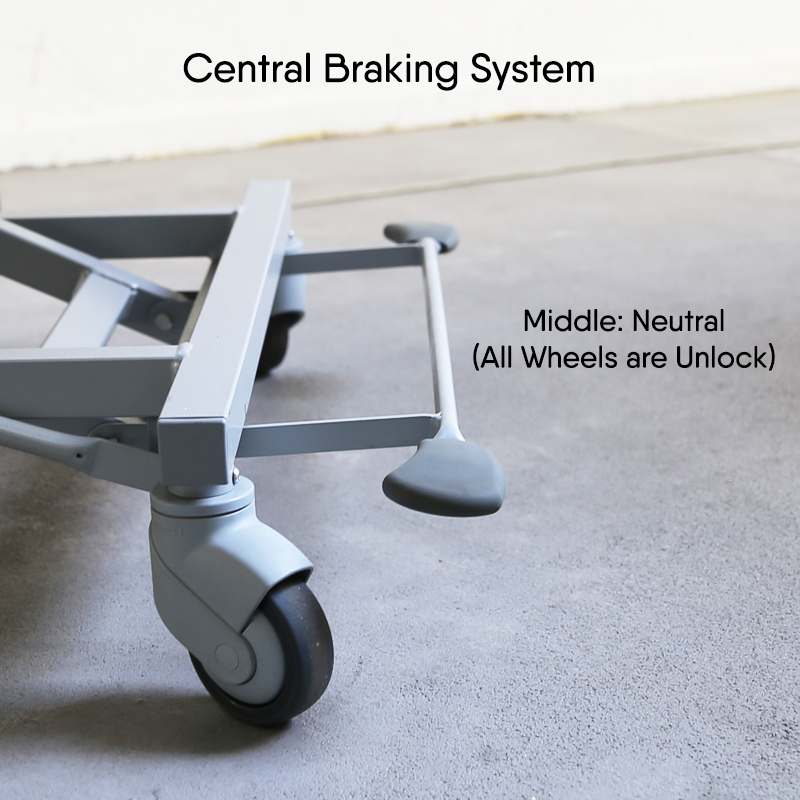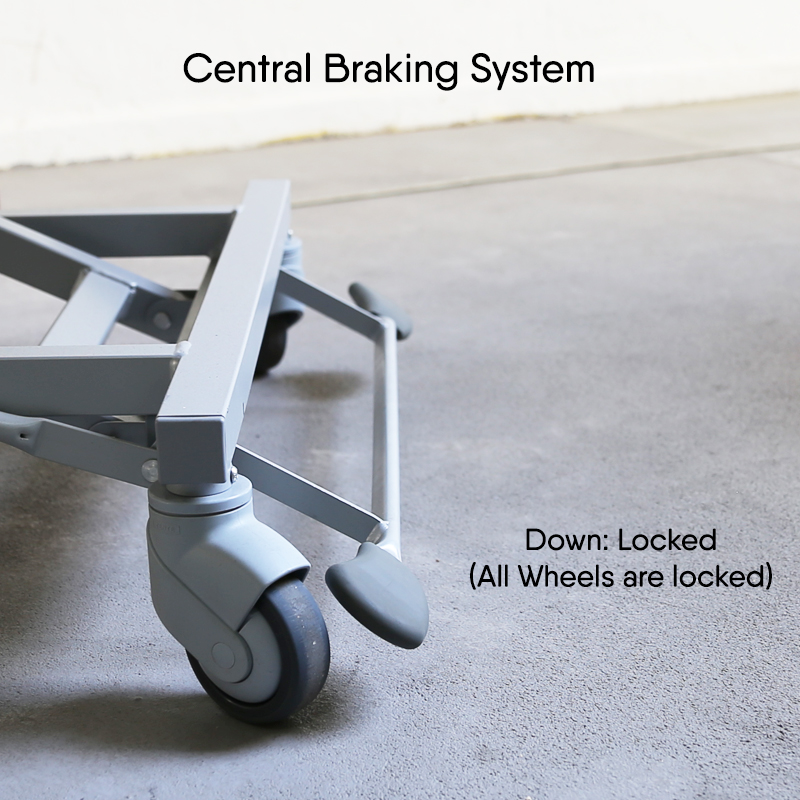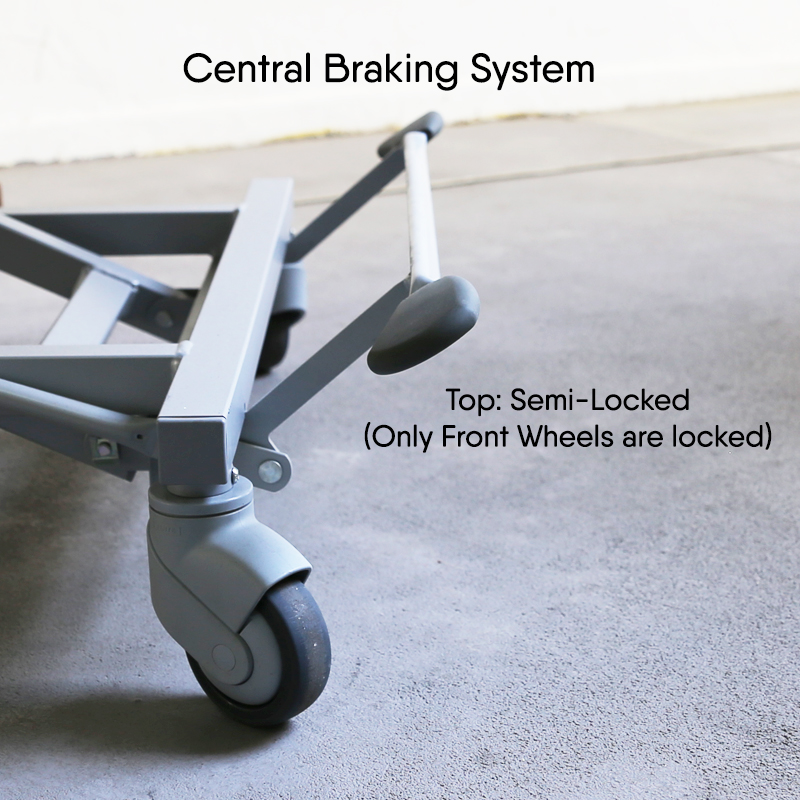 Central Braking System
Braking has never been easier.
Through a central braking system, brakes can be applied to all 4 castors through the central pedal via foot operation. You can lock all wheels without the use of any electricity, and operate the brakes at any bedding height, which reduces back strain.
Multi-directional castors allow easy manoeuvrability of the bed.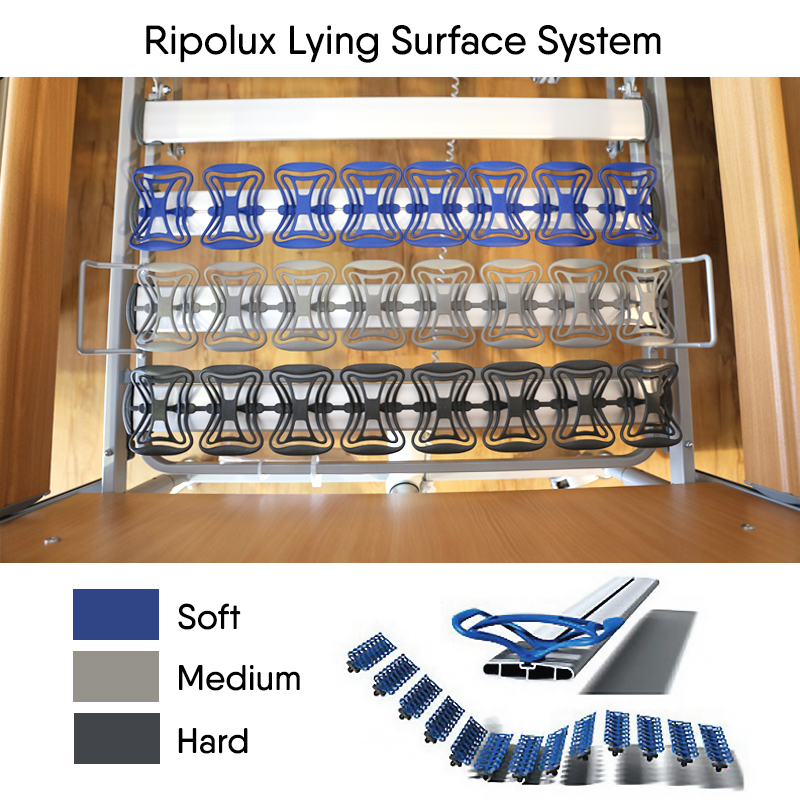 Optional: Ripolux Lying Surface System (Add on $380)
The Ripolux is an add-on flexible lying surface system that can be adjusted to distribute the body's pressure perfectly. There are 3 degrees of spring hardness available (Soft, Medium, Hard). It is made of high-performance plastic for long-lasting elasticity and durability.
The Ripolux helps with handicaps and paralysis with selective pressure relief plus targeted back and body support. It also helps with pain and bedsores to relieve patients' back, reduces tension, restlessness and night activity.
The springs are easily fitted into the aluminium laying surface without any tools. No moisture absorption and easy cleaning (maximum hygiene). Ideal ventilation and few supporting surfaces to keep mould from forming.
Country of Origin
Germany

Hospital Bed Specifications
Overall Length
212 cm
Overall Width
105 cm
Lowest Height
37 cm (Floor to Bed base)
Highest Height
81 cm (Floor to Bed base)
Back Raise Angle
0° to 70°
Leg Raise Angle
0° to 50°
Mattress Length
200 cm
Mattress Width
90 cm
Mattress Height
10 cm
Safe Working Load
165 kg
Add-On Options
Mattresses
Livorno beds come standard with a 4-inch PVC Foam Standard Mattress.
You may choose to upgrade to the Bock Standard Comfort Foam Mattress with a PU cover (+$210), or the Bock Riposan Comfort Mattress (+$510).